SPRING
Fruit of Art, Dúbravica, SK (Periférne Centrá)
April 18 – May 4, 2014: in the village Dúbravica, close to Banská Bystrica, Periférne Centrá is organising an event dedicated to orchards.
Summer gardening brigáda, KRA, Hranice u Malče
May 29 – June 1, 2014: Gardening brigáda at Kravín/Hranice, with a presentation of the new 2014 RurArtMap, and a visit to the opening of the land art exhibition "Seno, sláma" in Jihlava. We plan to build a greenhouse, test new garden labs, make a Plotof (Playroom on the open fields) for all the new kids on the block, and tour around the "posedy" (hunters' watch towers) with artists. Plus a short workshop about seeds, with seeds-exchange. The event starts on the evening of May 29th with a visit to the opening at the OGV gallery in Jihlava, but you can join us also the next day immediately in Kravín/Hranice. Accommodation and food can be provided at a nearby eco-farm.
SUMMER
Walk across the Iron Mountains (Železné hory)
The organisation Pilgrim prepares a 3-day long walk across the Iron Mountains in Vysočina, July 21 – 23. It is dedicated to the two Antonín's – Chitussi and Slavíček, and is connecting the two places of origin of these painters – Ronov nad Doubravou and Kameničky in the Chrudim area. For more info and registration write to Jiří Zemánek (sarvanga@centrum.cz).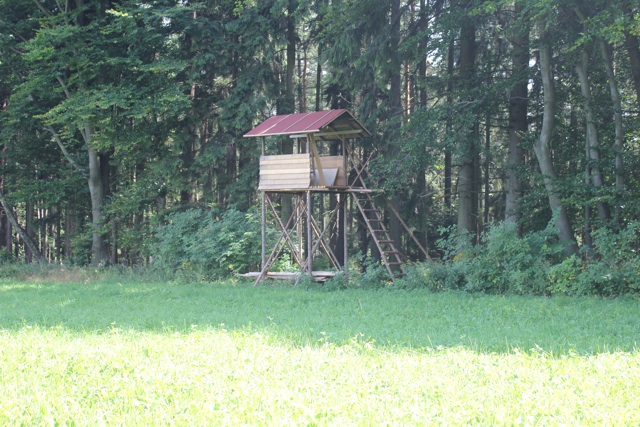 Posedy, hunters and animal paths, KRA, Hranice u Malče
August 18-24 we plan a big event around the theme of hunting. Artists are invited to make installations for the hunters' seats (posedy) (see also the call). These installations will be visited together, while marching bands play in the surrounding fields. This artistic hunt will end in an animal ball, strictly vegetarian as opposed to the hunters' balls, and you are requested to dress like a deer, hare, … but not like a hunter.
AUTUMN
Wind garden and singing kites, KRA, Hranice u Malče (September 24 – 28)
This second major event is dedicated to making musical kites. A workshop for kids of all ages (0-100) ending with a kite flying festival day.
October 18 – 19: a gardening brigáda days to prepare the Kravín/Hranice garden for winter, and to celebrate the harvest…
The year is ending in beauty in Školská 28 Communication Space in Prague,  with an exhibition examining the phenomenon of city beekeeping, with installations, performances, and discussions. Opening: November the 20th!