A little festival of
sun
Solar gardening workshop, film projections, concerts, cooking lectures, walks…
July 3 – 7, 2013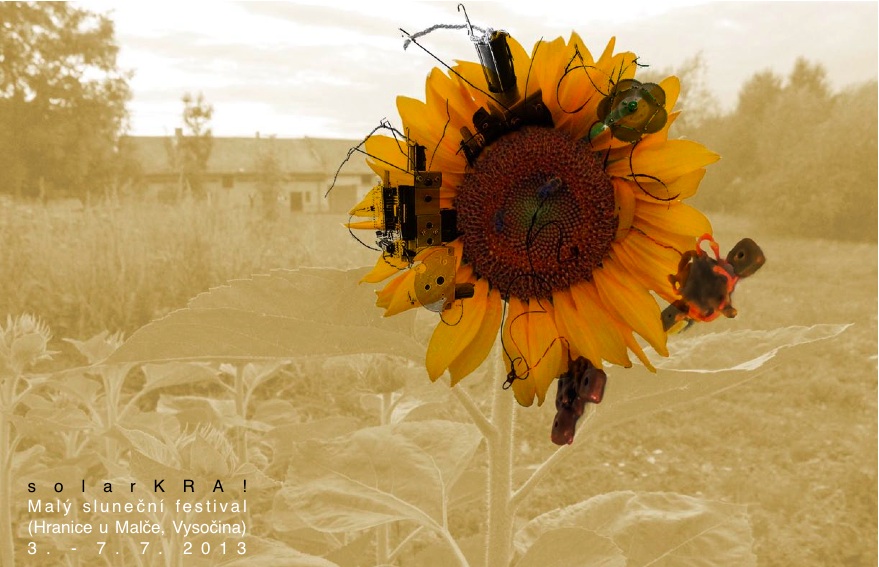 PRE-PROGRAM – Saturday, June: ON/OFF festival under the Moth Catchers collective
Already in the afternoon, you can visit our garden and participate at various workshops (e. g. making of solar amp). Vegetarian refreshments and bar available. Festival program HERE.
//////
solarKRA PROGRAM
Wednesday July 3 – Sunday July 7

:

Solar tools for gardens – workshop with

Ralf Schreiber

- Saturday July 6 from 2 pm – Ralf's workshop for kids
- Saturday July 6 before sunrise

–

garden solar concert

Ralf is involved in minimal robotics, he creates sound installations and various self-preserving systems. His playful works produce tiny sounds and movements, and deal with weak energy transformation processes. The idea is to use solar energy for the development of (artistic) tools for gardens – for example solar-based modular system for environmental data monitoring (temperature, humidity, pollution of soil and air), as well as little solar sound objects – crickets.

Within the workshop, artists can consult and develop their projects. If you have an idea, what you would like to create during the workshop, please let us know!

/////////
Wednesday July 3

- Friday July 5

: continuous presentations of projects, activities, and ideas of participants, ideas and plans for realization…

Okno (BE) introduces ALOTOF [A Laboratory On The Open Fields] project and what is possible to create within its scope…

- Annemie Maes – about bees, observation hives and ways of monitoring the life of the bees on the Brussels rooftops…

- Gívan Belá – solar powered environmental sensors for monitoring the life of the bees, especially in Abbé Émile Warré's People's Hive… / solar powered amplifiers

Periférne Centrá (SK) - solar-based garden cooker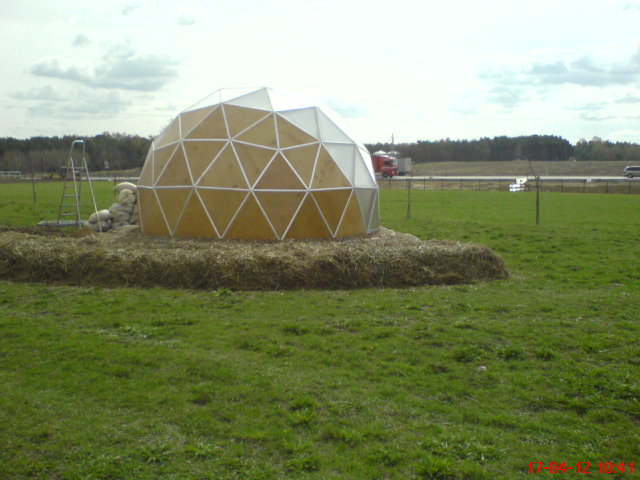 Fundacja Transformacja (PL) - presentation and demonstration of projects dealing with permaculture and nature protection, robotics, and sustainable transporting system using bio-fuel from algae
Ecos (FR) – rapido export matic laboratory, 12V solar lab
Pavel Havrda & Dominik Žižka – site specific solar installation / artistic physical model (and associated concert also by Daniela Deutelbaum, Veronika Daňhelová, Jára Dufkem and Blanka Švédová)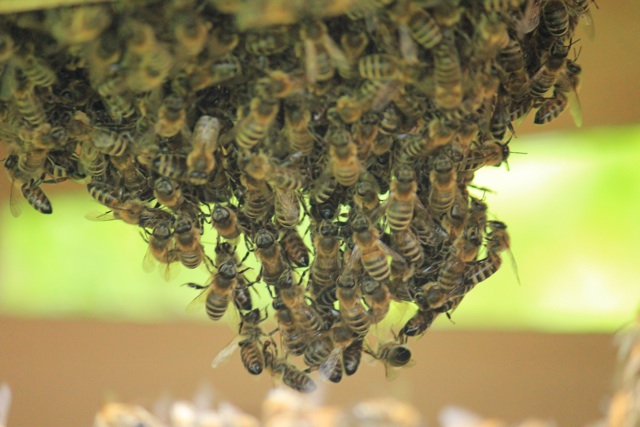 Yo-yo (CZ) – RurArtMap – an emerging map-network of artistic and ecological initiatives and Garden of art tools as a part of a newly imagined space KRA (Kravín Rural Arts) – how to use garden as a laboratory…
+
Wednesday 3 – Saturday 5

:

non traditional cooking courses

using local ingrediences with Filip Kavka Smiggels, finalized with solar cooking impro music…
Collective cooking will start always around 5 pm. The process of the workshop is free, and will be based on ideas of participants and cook.
+
Friday July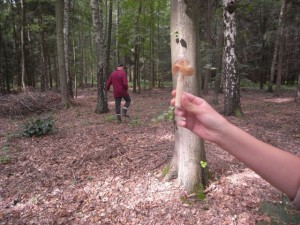 6 MORNING – mushrooming walk with local mushroom expert Ivan
Friday July 6 after dark – KINO NA BETON presents documentary movie Midnight by Klára Tasovská
An essay on sources of light, the meaning of darkness and light pollution, with several layers of interwoven meaning…
Saturday July 7 after dark – KINO NA BETON presents documentary movie Solar Eclipse by Martin Mareček (will be confirmed) + other movies…
In 2006 two Czech electricians, Milan and Tomáš, set off for the Zambian village of Mupande. Exploiting a "higher level of African improvisation" they managed to provide electric power to the local school, clinic and several homes, and brought the villagers out of their equatorial darkness. Five years later they return to the site of their worthy deed and discover to their dismay that their ingeniously constructed system is in ruins. With considerable effort and to the sound of numerous expletives from temperamental Tomáš, they set to work repairing the damage caused by the villagers' clumsy interventions.
//////
PRACTICAL INFO
It is possible to camp in the garden during the workshops, (solar) showers provided. Take tents, groundsheets, sleeping bags, warm clothes (and mosquito repellents, if you are more sensitive to insects…).
It didn't rain on St. Medard, so we have a good chance for sunny weather.
Entrance is free, but it is better to register at info@yo-yo-yo.org.
Facebook: yo-yo group.
The event is organized within the framework of ALOTOF [A Laboratory On The Open Fields] project, with the support of EU Culture Programme 2007-2013 and International Visegrad Fund.