Yo-yo wishes all the best in 2014. This year, we organize several hopefully inspiring events in Hranice u Malče, but also in Prague, so follow our website…
Fruit of Art (Dúbravica, Slovakia)
Our partners Periférne Centrá organize an event in Dúbravica village. It concerns fruit trees, bees, garden labs, several artists will work on their projects and we will present online version of our RurArtMap!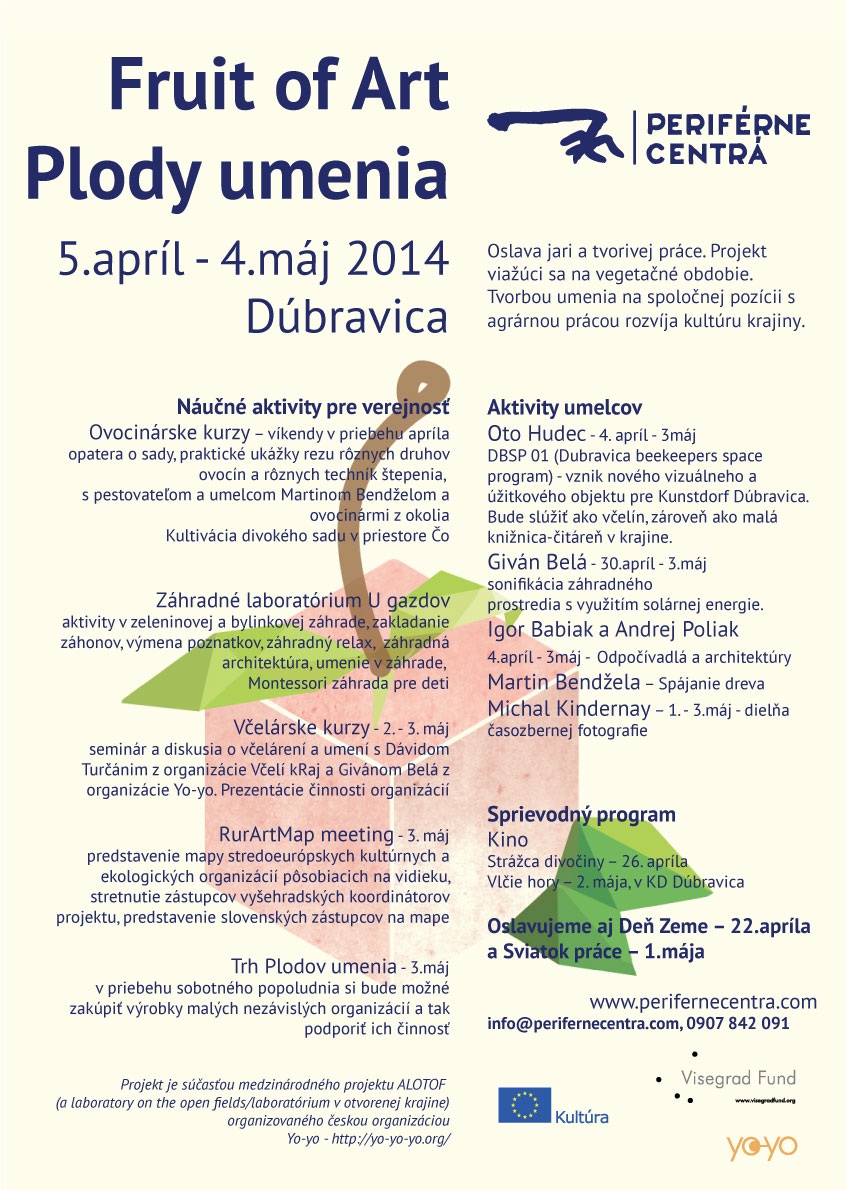 And our first event in Vysočina in KRA space is:
Springly-summer gardening brigáda
May 29 – June 1, 2014: Gardening brigáda at Kravín/Hranice, with a presentation of the new 2014 RurArtMap, and a visit to the opening of the land art exhibition "Seno, sláma" in Jihlava. We plan to build a greenhouse, test new garden labs, make a Plotof (Playroom on the open fields) for all the new kids on the block, and tour around the "posedy" (hunters' watch towers) with artists. Plus a short workshop about seeds, with seeds-exchange. The event starts on the evening of May 29th with a visit to the opening at the OGV gallery in Jihlava, but you can join us also the next day immediately in Kravín/Hranice. Accommodation and food can be provided at a nearby eco-farm.
_____________
AUTUMN IN KRALAB
October 25 – 27, 2013
For a gardening weekend in our emerging laboratory on the open field Kralab in Hranice u Malče we will welcome the volunteers, who would like to help with planting the old tree and bush species, cleaning the garden before winter and building the outside lab. We can warm you up with mirabelle brandy, the accommodation is provided at the nearby vegetable farm, and vegetarian food is a sure thing.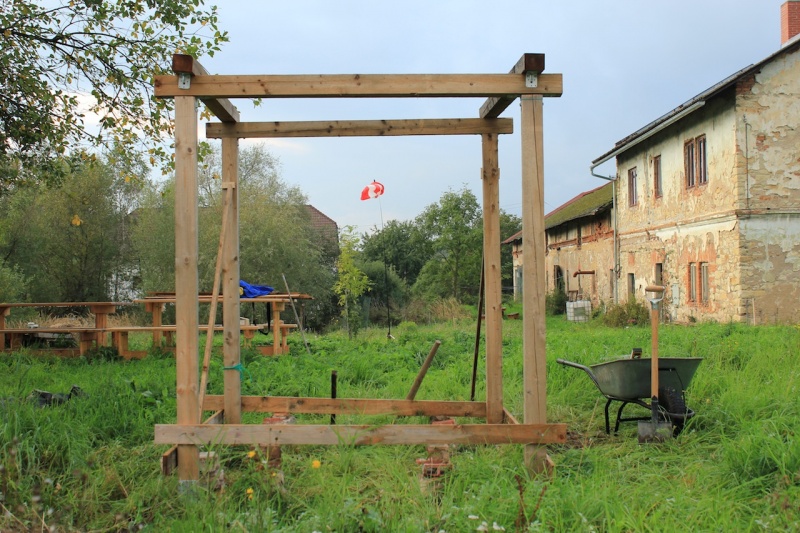 During the weekend, a trip around the hunters' hides will take place, as part of planning for an event "Posedy" taking place in late summer 2014. Its idea is to transform (pro tempore) the local hides by artists. More about what we plan within Alotof project HERE. And about Kralab progressing HERE.
——————
SOLAR
K
R
A!
A series of events connected with solar energy will take place at the end of June – beginning of July in Hranice. It will freely start on Saturday June 29 with a series of concerts, organized – as well as last year – by local Moth Catchers collective. (A special invitation will follow). In the afternoon you can attend various garden workshops. Vegetarian food and bar available.
On Wednesday July 3 – Sunday July 7 solar workshops with Berlin-based artist Ralf Schreiber will take place. He is involved in minimal robotics, sound installations, self-preserving systems. His playful works produce tiny sounds and movements, deal with weak energy transformation processes. He is author of solar engine suneater getting energy from sunlight.
The idea is to use solar energy to develop artistic tools for gardens – for example solar-based modular system for environmental data monitoring (temperature, humidity, pollution of soil and air), as well as little solar sound objects – crickets.
On Saturday afternoon, a special solar workshop for kids takes place. In the evening a concert together with workshop participants (solar, naturally).
Organized within the framework of ALOTOF [A Laboratory On The Open Fields] project, also a new activity of mapping the rural arts – RurArtMap – will be introduced.
MORE HERE
DOCUMENTATION HERE
____________________________________________________________

Project, prepared for 2013 – 2014, has the aim to research rural and urban gardens as spaces for work of artists, to set up an outside art laboratory, and to develop various "practical", as well as "art" gardening tools using natural processes and energies.
____________________________________________________________
Festival about art, culture, and ecology in the villages
July 6 – 8, 2012, Hranice u Malče, Vysočina
The aim of the meeting of cultural, artistic and ecological organizations and individuals based in the rural context is to offer a new view of the countryside as a resource for artists, and present various initiatives taking place in the countryside. The festival freely follows the conference On a different soil (November 2011, Prague), which dealt e. g. with the city approach to gardening. It takes place in the rural area, in the old cow-house.
Music festival takes place on June 30th 2012 in Kravín in Hranice u Malče
Yo-yo hosts a series of concerts and additional program, prepared by the group Moth Catchers Collective from Chotěboř.
---
Yo-yo on the road
Yo-yo invites you for two events, the culmination of the project aimed at interconnecting the urban and rural spaces (RUB: Rural-Urban at the Border), taking place in our partner organizations (Stanica Žilina-Zárečie and Okno in Brussels):
[TIK] FESTIVAL
MAY 11 – 13, 2012
OKNO, iMal aND Q-02
(Koolmijnenkaai 30 – 1080 Brusel)
Two-year-long collaborative experiment with time. Yo-yo has participated as one of the associated partners in the project Time Inventors' Kabinet [TIK], which comes to a head during the festival in May. The resulting projects devising future in ecological time, translating environmental information into sound and image, or interconnecting city gardens and gardeners, will be presented.
A festival. An exhibition. Talks and dialogues. A market place. A publication. Streams. Presentations. Demonstrations. Discussions. Walks. Workshops. Seeing Wind Time. Tasty drinks & snacks. All about other views on the world.
---
YO-YO GARDENING AT STANICA
JUNE 2, 2012
An afternoon with Yo-yo at Stanica, aimed at insect and wind. In a short workshop, we will construct the bumblebee nest boxes – simple and practical dwellings for bumblebees for every garden, and sow the melliferous plants, as a contribution to joyous co-existence with insects in the city.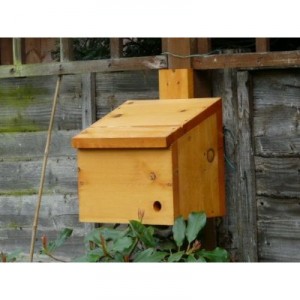 The installation Vítr, which is the result of the marching band festival in Hranice u Malče in October 2011, will be presented – you can bring your own instruments, become the part of the installation and play in the rhythm of the wind. The garden activities will be recorded by Wind camera. The recordings from both installation will be shown in the evening.
The evening with Compagnie En Croq: Funky Pudding follows:
The performance with the elements of commedie de'll arte, grotesque as well as drama is a radical critique of capitalism and western civilization. It points to the inbalance between the individual and society, people and surplus, people and garbage. It is an interactive play, appreciated by the audience, engaged in environmental and societal themes.
---

 documentation here
An international conference, organized within the framework of the project TIK – Time Inventors' Kabinet / and as an accompanying program of Science and Technology week 2011.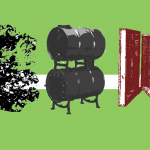 This year's meetings at Kravín have the theme of "Rural vs. Urban at the Border" (RUB). We want to interconnect urban and rural experiences, exchange the working methods of the art organizations from various cities and villages, and involve the locals in a dialogue.
…more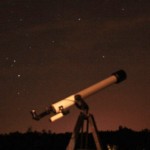 Astronomomy studies – documentation